NACEP in State Policy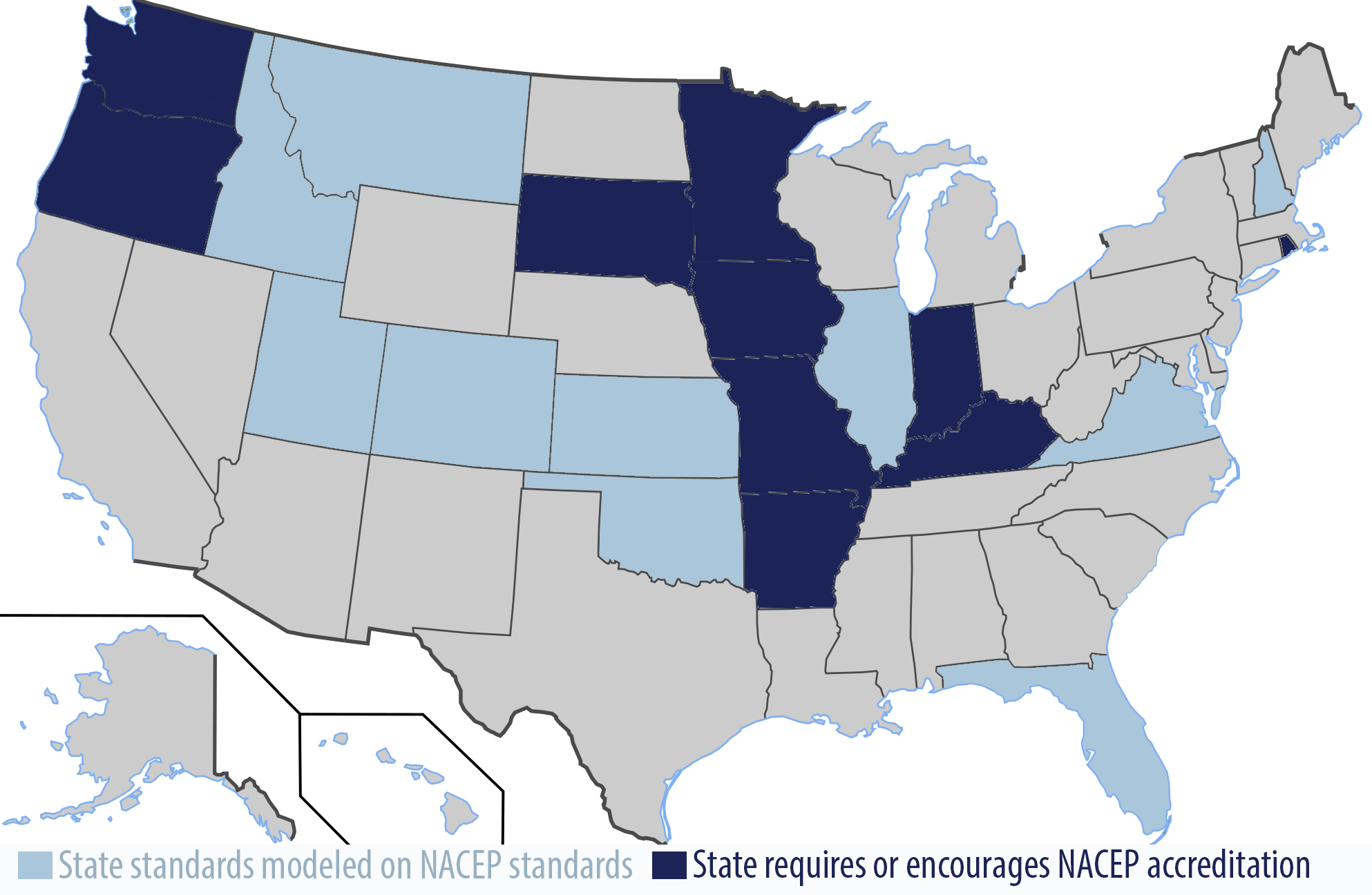 NACEP works with state legislators, agencies, and college and university systems to develop quality concurrent enrollment partnerships and hold them accountable to high standards. As the only national set of standards of excellence for concurrent enrollment partnerships, NACEP's standards serve as a model for statewide quality standards in Colorado, Florida, Idaho, Illinois, Kansas, Montana, Utah, and Washington. Seven states additionally require or provide incentives for colleges to obtain NACEP accreditation.
NACEP's October 2010 report Promoting Quality: State Strategies for Overseeing Dual Enrollment Programs documents the strategies employed by six states to ensure that college courses offered to high school students are of the same high quality and rigor as courses offered to matriculated college students.
Indiana General Assembly's 2005 Double Up for College Act
All public postsecondary institutions offering concurrent enrollment courses must earn NACEP accreditation or otherwise seek state approval from the Indiana Commission on Higher Education. Commission policy requires programs that are not accredited by NACEP to demonstrate adherence to NACEP's standards and undergo state review.

Arkansas Higher Education Coordinating Board's Concurrent Enrollment Policy
Policy revisions in 2007 mandated that all public colleges and universities that offer concurrent enrollment courses obtain NACEP accreditation by July 2009. Newly established programs must apply for NACEP accreditation as soon as they are eligible; five years after they begin offering courses.

Minnesota State Legislature's Concurrent Enrollment Program Aid
When the legislature decided to provide funding for concurrent enrollment courses in 2007, it ensured that it was only paying for quality courses by providing funds to districts only for courses from NACEP-accredited programs, or those that demonstrate adherence to comparable standards.

Iowa Legislature's Senior Year Plus
The 2008 Senior Year Plus legislation standardized concurrent enrollment programs across the 15 community colleges and established a Postsecondary Course Audit Committee to oversee course quality. The community college Presidents agreed to fulfill the law's quality assurance goals by pursuing NACEP accreditation for each college.

South Dakota Board of Regents' Credit Transfer Policy
In 2010 South Dakota became the first university system to grant blanket acceptance of concurrent enrollment credit for courses taken through NACEP-accredited programs. Credit is otherwise only accepted if a college receives prior approval from the Board of Regents or students earn credit through CLEP or Advanced Placement exams.

Oregon Dual Credit Oversight Committee
The Oregon Joint Boards of Education established the Dual Credit Oversight Committee to conduct program approvals of dual credit programs offered by all 17 community colleges and 4 of the 7 public universities. The Committee adapted NACEP's standards as the basis for approvals in 2010, and exempts those programs that have earned NACEP accreditation from the state approval process.

Kentucky Community and Technical College System's Business Plan
The September 2011 Business Plan for Transforming KCTCS establishes a strategy to develop a consistent, statewide program of dual credit, using NACEP standards as a framework and requiring all 16 KCTCS colleges to pursue NACEP accreditation.
---
Resources for Researching State Policy
State policy frameworks governing concurrent enrollment vary considerably among the 50 states, ranging from states with limited policies to those with considerable layers of state oversight prompted by state legislation, regulation, and policies. Some states have policies specific to concurrent enrollment partnerships where high school teachers offer college courses in their classrooms, while other policies address a wide range of dual enrollment opportunities regardless of location or instructor. In many states, public university and/or college systems play a key role in establishing policies and influencing concurrent enrollment practice among individual institutions.
High School Reform Database, Education Commission of the States (last updated December 2008).
Includes state profiles based on specific policy components, recent policy developments, and links to ECS policy briefs. Dual Enrollment is among the two dozen topics covered.
SPIDO (State Policy Inventory Database Online), Western Interstate Commission for Higher Education (last updated December 2007).
An index to states' laws, regulations, and policy on a variety of education topics, including Dual or Concurrent Enrollment (search under Accelerated Learning Options).
Publications on State Dual/Concurrent Enrollment Policy